---
agonia
texts
comments
members
Collections
workshop

Online Bookshop
classics
chat
photo
Literary TopSites
links
links



Recommended Reading
■ Spectrum
■ My life. Mother of mine
■ (half)
■ Green roots. Trampling down death by death
■ The only thing
■ In our image and our likeness
■ passage. if today
■ Us
■ Philosophia Perennis
■ Active rest with hand on the knife
■ Metaphysical guilt
■ a theory of apocalypse
■ s m i l e
■ Epistle of a millennial
■ so, listen...
■ 3


Romanian Spell-Checker
Poezie - Poezii
Dictionar de rime
proza, eseuri, literatura
Literary TopSites
noutati IT, jocuri
Romanian Trends
Laptop

Contact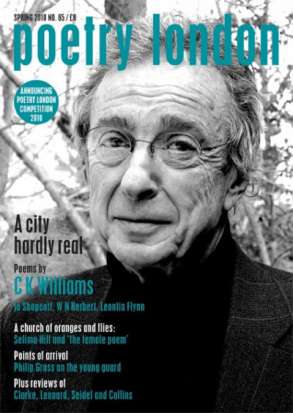 Poetry competition
article [ Events ]


- - - - - - - - - - - - - - - - - - - - - - - - -
by Corina Gina Papouis [Trinity ]
2010-03-08 | |
As a subscriber to 'Poetry London' I am pleased to inform all poetry lovers about one of the most reputable and sought after poetry competitions organised in London. Please read carefully, complete the form provided and give it a go!

'The Poetry London Competition, now in its eleventh year, has become one of the most highly-regarded in the country, attracting thousands of entries from across the UK and abroad. We are pleased to announce that Michael Longley, winner of the Queen's Gold Medal for Poetry, will be the competition judge in 2010.

Previous judges have included Don Paterson (2009), Kathleen Jamie (2008) and Jo Shapcott (2007). Don Paterson's 2009 judge's report and the winning poems are published in our Autumn '09 issue.

The 2010 competition is launched in the Spring 2010 issue.
The closing date is 31st May 2010.

Winners will receive the following prizes:

1st Prize £1000

2nd Prize £500

3rd Prize £200

Commendations: four of £75 each'


*To download form and for more information please use the link bellow:
http://www.poetrylondon.co.uk/competition

Good luck to all participants!