---
agonia
texts
comments
members
Collections
workshop

Online Bookshop
classics
chat
photo
Literary TopSites
links
links



Recommended Reading
■ Spectrum
■ My life. Mother of mine
■ (half)
■ Green roots. Trampling down death by death
■ The only thing
■ In our image and our likeness
■ passage. if today
■ Us
■ Philosophia Perennis
■ Active rest with hand on the knife
■ Metaphysical guilt
■ a theory of apocalypse
■ s m i l e
■ Epistle of a millennial
■ so, listen...
■ 3


Romanian Spell-Checker
Poezie - Poezii
Dictionar de rime
proza, eseuri, literatura
Literary TopSites
noutati IT, jocuri
Romanian Trends
Laptop

Contact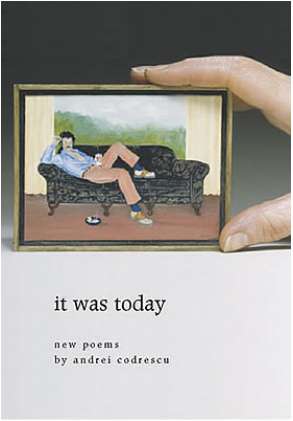 It was today
article [ Books ]
New Poems by Andrei Codrescu

- - - - - - - - - - - - - - - - - - - - - - - - -
by bb [bb ]
2003-11-08 | |
Born in Sibiu, Romania on December 20, 1946; emigrated to the United States in 1966; became U.S. citizen in 1981; poet, novelist, essayist, screenwriter; columnist on National Public Radio; editor of Exquisite Corpse, a literary journal on line at www.corpse.org; MacCurdy Distinguished Professor of English at Louisiana State University in Baton Rouge.

RECENT BOOK:

POETRY:
It Was Today - New Poems by Andrei Codrescu
(Coffee House Press, 2003)

In praise of Andrei Codrescu's poetry, Harper's says "his command of language is superb, his writing beautifully original, and his insights piercing." The heart of this first new collection in nearly a decade is an elegant conceit containing the "recently discovered" correspondence between a warrior and a courtesan in fourteenth-century China. This sequence offers a seductively beautiful contrast to poems about modern life and millennial malaise that are both unsparing and intimate, inventive and playful. With great passion and playfulness disguised in an audacious, world-weary voice, these poems examine the state of the world-its politics, its media, its tragedies, it obsessions, its debaucheries and the great affairs-with art, with cars, with lovers-that make it all worthwhile.