---
agonia
texts
comments
members
Collections
workshop

Online Bookshop
classics
chat
photo
Literary TopSites
links
links



Recommended Reading
■ in return for your navy blue shirt
■ Spectrum
■ My life. Mother of mine
■ (half)
■ Green roots. Trampling down death by death
■ The only thing
■ In our image and our likeness
■ passage. if today
■ Us
■ Philosophia Perennis
■ Active rest with hand on the knife
■ Metaphysical guilt
■ a theory of apocalypse
■ s m i l e
■ Epistle of a millennial
■ so, listen...


Romanian Spell-Checker
Poezie - Poezii
Dictionar de rime
proza, eseuri, literatura
Literary TopSites
noutati IT, jocuri
Romanian Trends
Laptop

Contact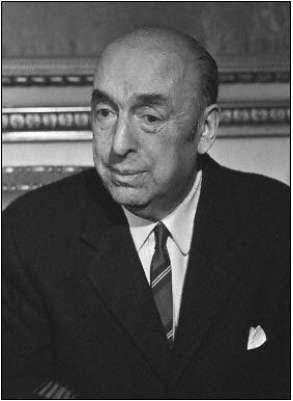 Siguen festejos por centenario de natalicio de Neruda
article [ Events ]
AFP

- - - - - - - - - - - - - - - - - - - - - - - - -
by Nicole Pottier [NMP ]
2004-07-12 | [This text should be read in espanol] |
El presidente Ricardo Lagos encabezará el lunes los homenajes por el centenario del nacimiento de Pablo Neruda, el poeta chileno que recibió el premio Nobel de Literatura en 1971.

Los organizadores de los actos dijeron que Lagos se trasladar√° en un viejo tren refaccionado hasta Parral, pueblo del sur, donde Neruda naci√≥ el 12 de julio de 1904. En la celebraci√≥n oficial, el mandatario ser√° acompa√Īado por el escritor brasile√Īo Thiago de Melo y el poeta y sacerdote nicarag√ľense Ernesto Cardenal.

Neruda, fallecido en 1973, ya ha recibido decenas de homenajes en todo el mundo.

En Chile, cien personalidades chilenas y extranjeras han sido escogidas para hacerles entrega de una medalla conmemorativa del natalicio del poeta.

Entre los distinguidos figuran el puertorrique√Īo Ricardo Alegr√≠a, el espa√Īol V√≠ctor Manuel, el uruguayo Mario Benedetti, el peruano Mario Vargas Losa, el mexicano Carlos Fuentes, el colombiano Belisario Betancur y el argentino Ernesto S√°bato.

Entre los aspectos resaltantes de la multifac√©tica vida del poeta, figura la organizaci√≥n del viaje a Chile de 2.000 refugiados espa√Īoles, de las derrotadas filas republicanas, a quienes embarc√≥ en el barco Winnipeg en 1939.

En 1970 fue nombrado embajador de Chile en Francia por el presidente socialista Salvador Allende.

La militancia comunista de Neruda lo llevó al exilio a fines de los cuarenta y comienzos de los cincuenta después que el presidente Gabriel González Videla pusiera fuera de la ley al partido Comunista.

Neruda muri√≥ de c√°ncer en Santiago, a los 69 a√Īos de edad. Falleci√≥ 12 d√≠as despu√©s del golpe militar que derroc√≥ a Allende en septiembre de 1973.

11 de julio de 2004, AFP.